Do you ever wonder why on earth Pantone choose the Color of the Year? If so, you're in the right place! In my blog post below, I'll review the following:
Recap of 2018's Color of the Year, Ultra Violet

Living Coral Explained

Current Events that Evoke the Color Living Coral

History of the Color Coral

How Your Personality Feels about the Color Coral

How Living Coral Can Affect Your Business
_____________


RECAP OF ULTRA VIOLET, THE 2018 PANTONE COLOR OF THE YEAR
"A dramatically provocative and thoughtful purple shade, PANTONE 18-3838 Ultra Violet communicates originality, ingenuity, and visionary thinking that points us toward the future," says Pantone.
Ultra Violet was the Pantone Color of the Year for 2018. Possibly a political statement, Ultra Violet is the embodiment of the harmonious unity of red and blue, the same colors that brand American government into two opposing belief systems. Purple as a whole combines the excited energy of red and the calm serenity of blue, which creates a very emotionally charged color. The institute explains that we are living in complicated times and suggests the color conveys a search for meaning. It describes Ultra Violet as inventive, enigmatic, imaginative, contemplative, and complex. Visionaries such as Prince, David Bowie, and Jimi Hendrix are referenced.
Personally, I feel like I did not see the exact shade of Ultra Violet catch on, but other shades of purple such as lavenders and soft pinkish purples almost like a pastel magenta are coming on the scene.

_____________
WATCH THE FULL EPISODE ON YOUTUBE
Living Coral Color of the Year 2019 by Pantone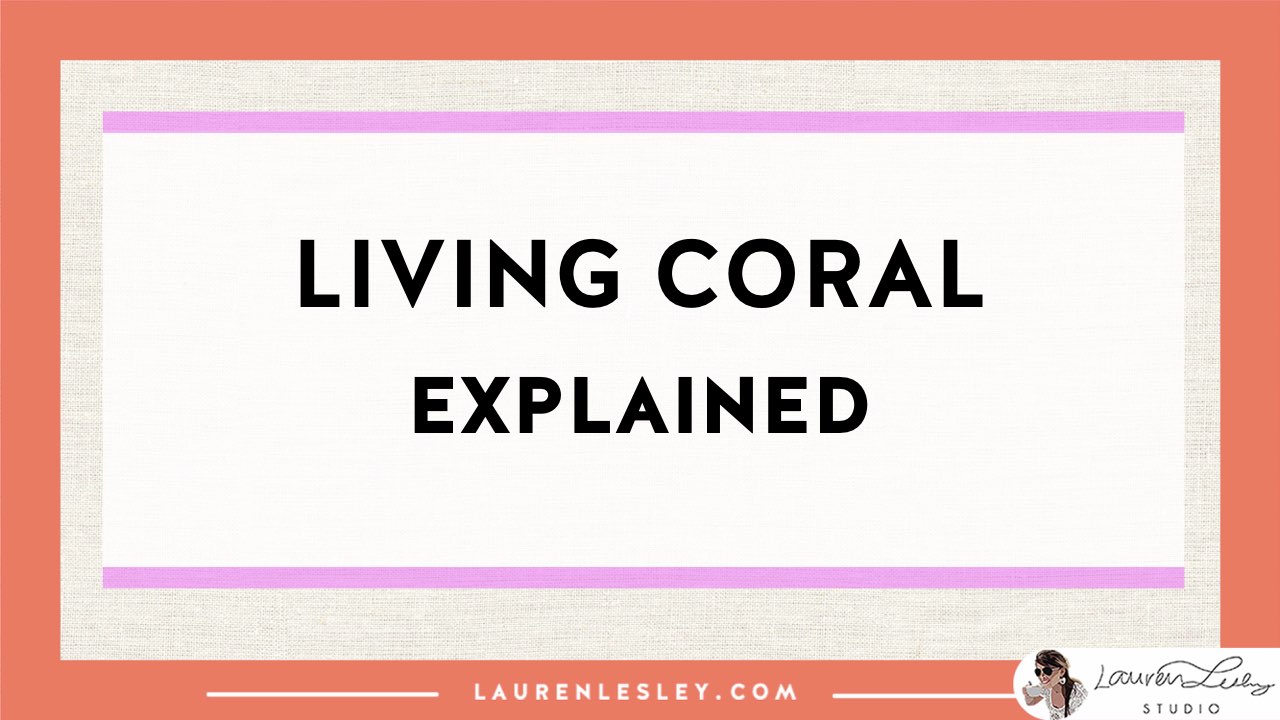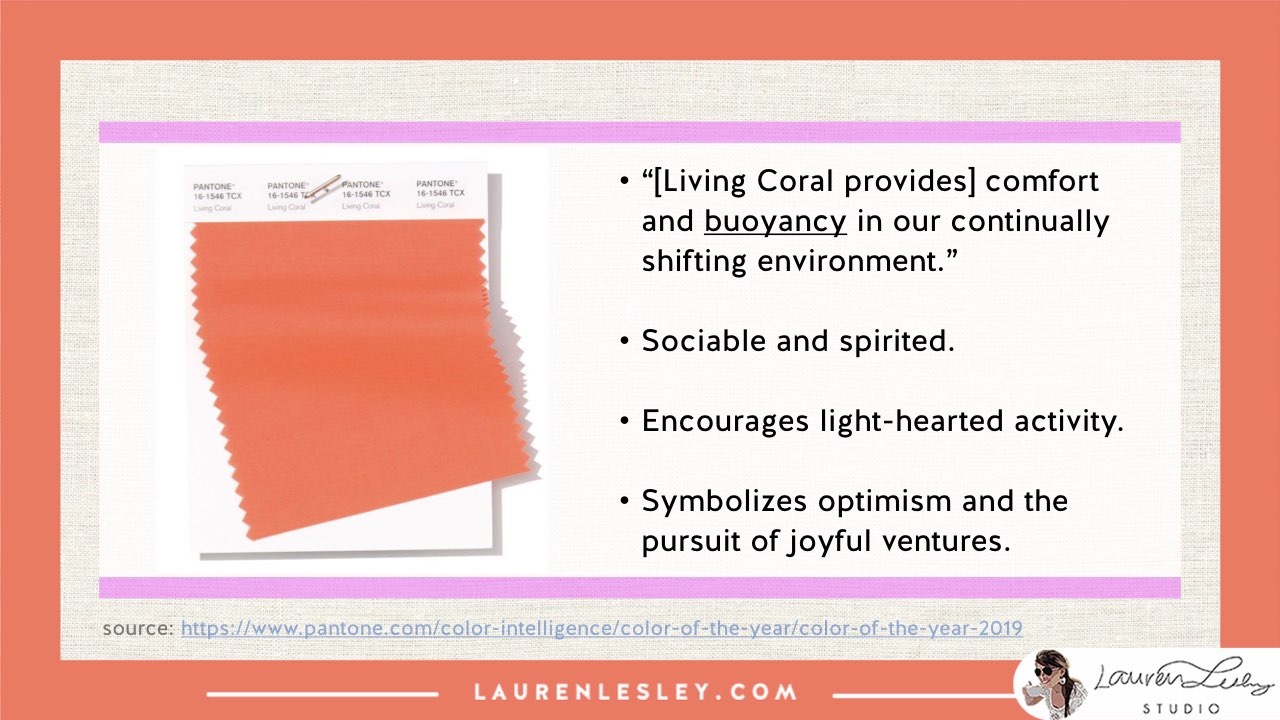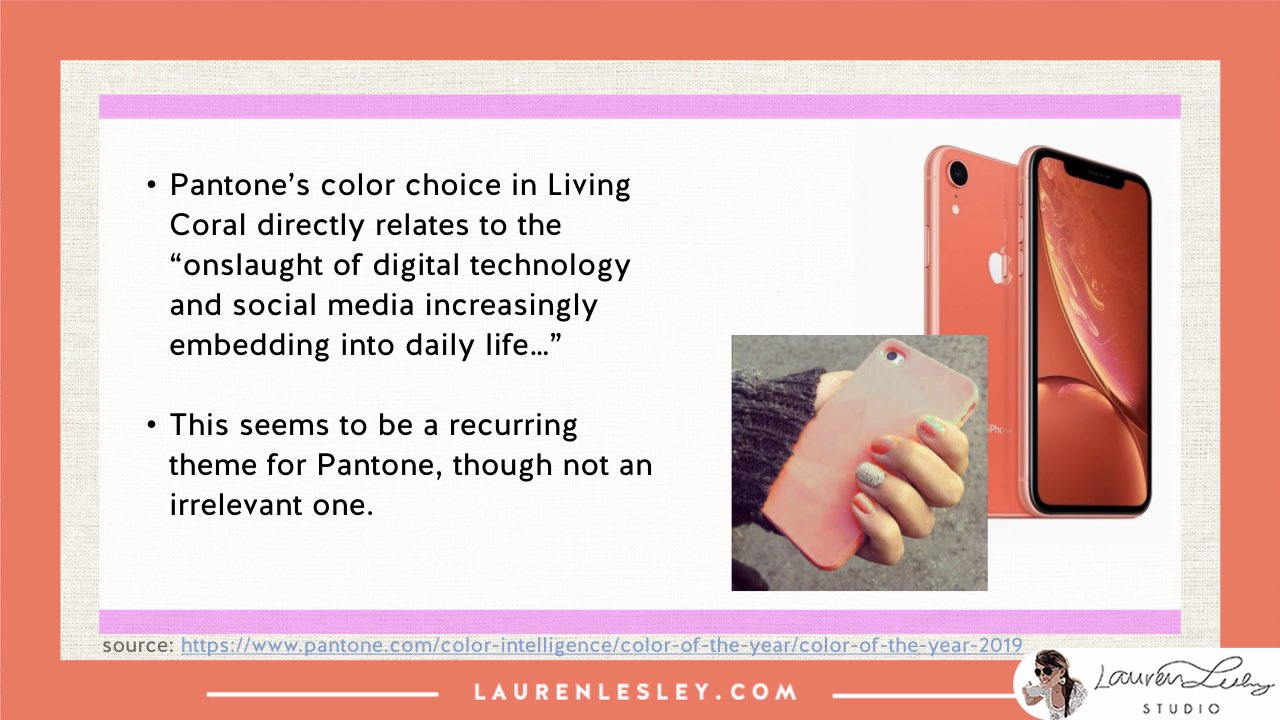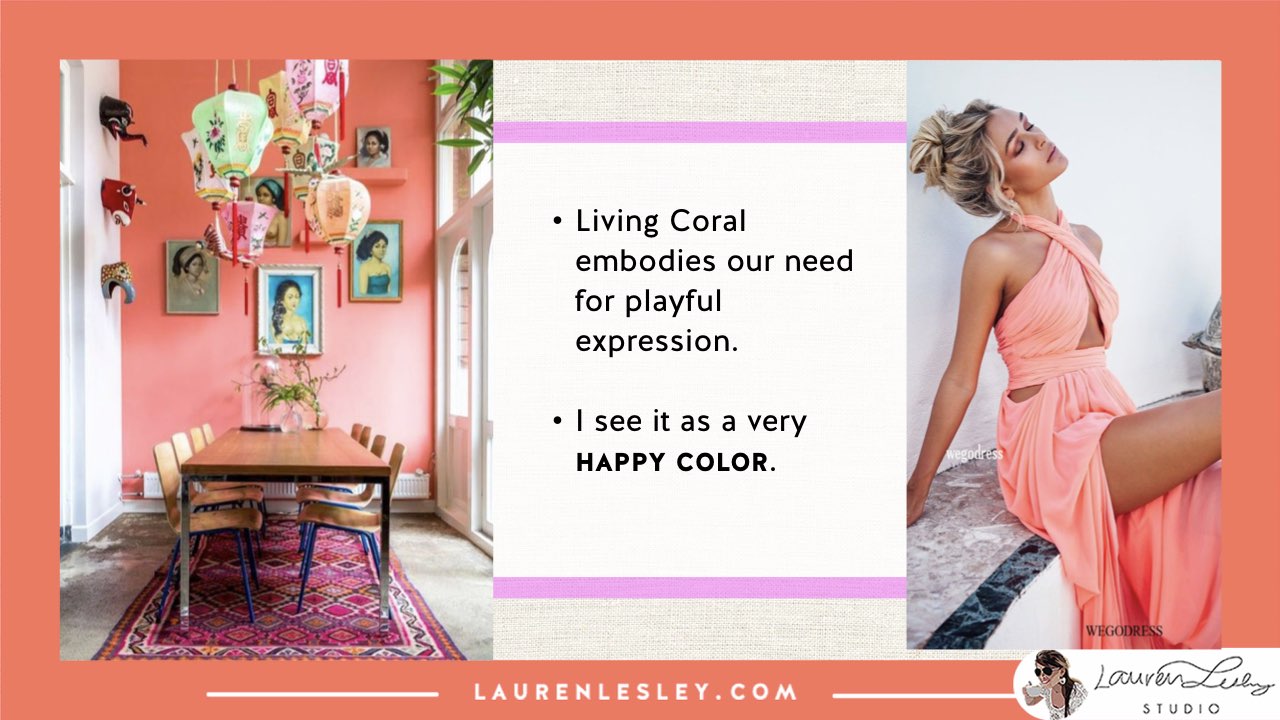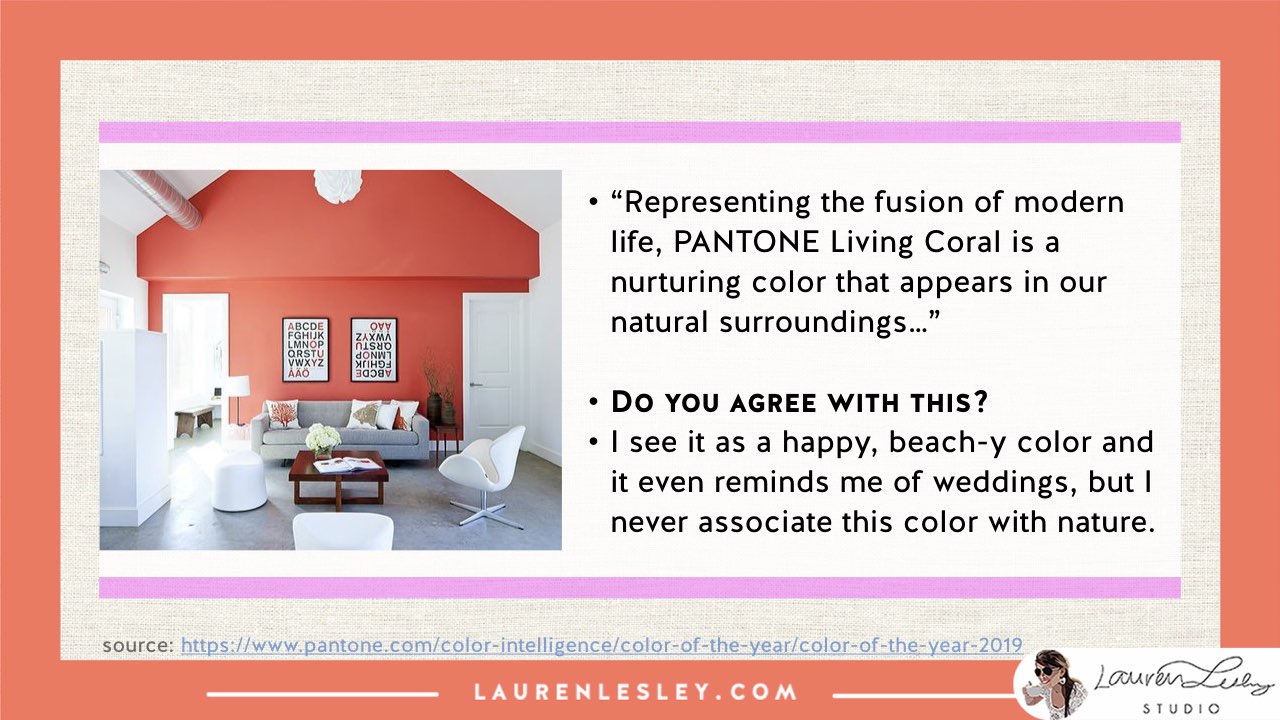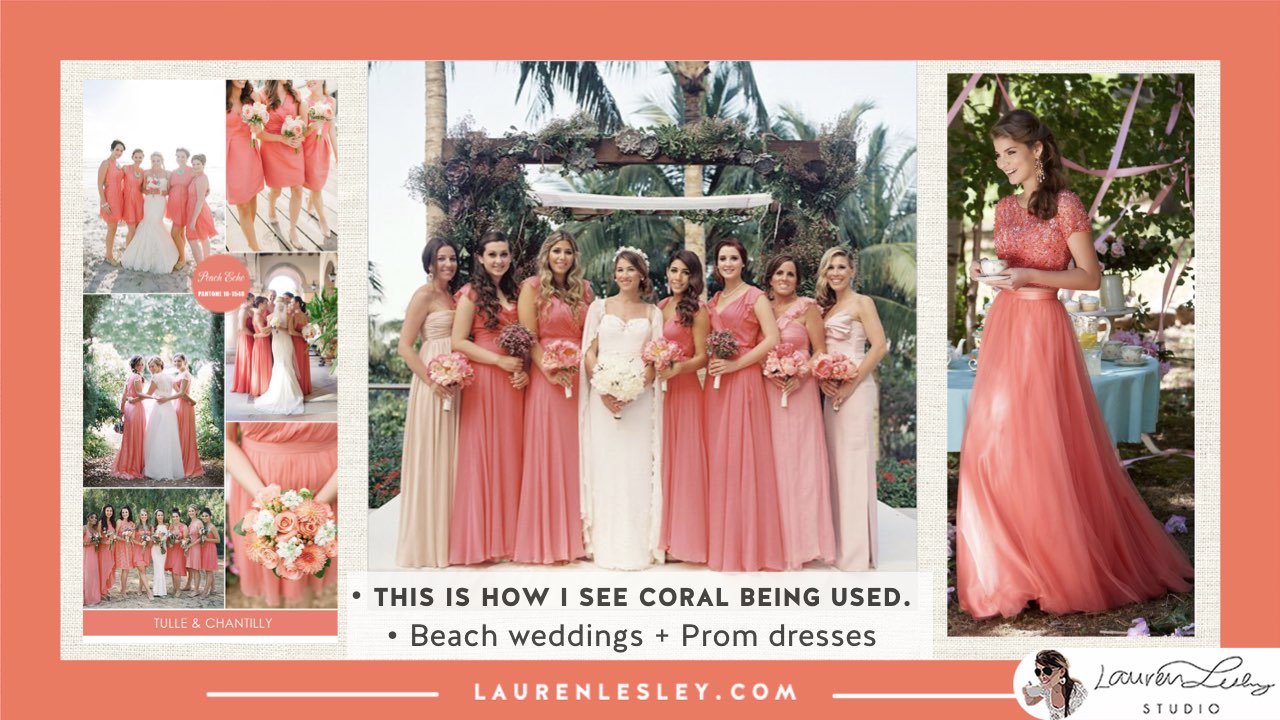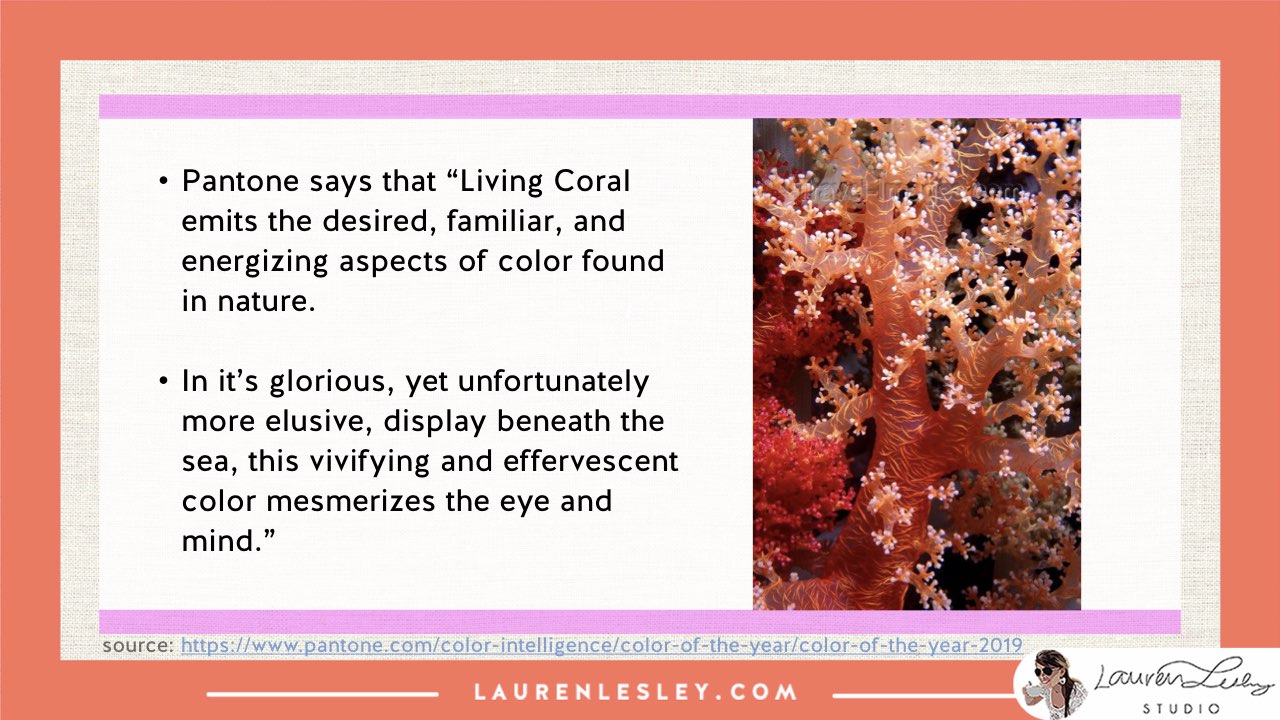 1 | LIVING CORAL EXPLAINED
Unlike what many many initially think, no crystal balls are in use when Pantone selects the color of the year! They collect color information from street trends, fashion, retail, the runway, social media, and travel. Pantone carefully researches cultural shifts, political dynamics, and takes historical events into account. Groundbreaking stuff, huh?
Vibrant yet mellow, Pantone describes Living Coral as "An animating and life-affirming coral hue with a golden undertone that energizes and enlivens with a softer edge." It is a color that is warm and nourishing.
"[Living Coral provides] comfort and buoyancy in our continually shifting environment." Part of the reason they chose it is for its sociable and spirited qualities. It symbolizes optimism, the pursuit of joyful ventures, and encourages light-hearted activity.
Pantone's color choice in Living Coral directly relates to the "onslaught of digital technology and social media increasingly embedding into daily life…" This seems to be a recurring theme for Pantone, though not an irrelevant one.
Living Coral embodies our need for playful expression. I see it as a very happy color.
DO YOU AGREE WITH THIS?
Pantone says, "Representing the fusion of modern life, PANTONE Living Coral is a nurturing color that appears in our natural surroundings…"
I see it as a happy, beach-y color and it even reminds me of weddings, but I never associate this color with nature.
Pantone says that "Living Coral emits the desired, familiar, and energizing aspects of color found in nature. In it's glorious, yet unfortunately more elusive, display beneath the sea, this vivifying and effervescent color mesmerizes the eye and mind." I guess that is technically nature. ;)
2 | HOW DOES LIVING CORAL INFLUENCE HOME DECOR IN 2019?
My first slide with the oversized chairs shows how I would have traditionally imagined coral being used in the home. I see it being the perfect color for Southern Coastal homes.
However, we are beginning to see it being used in fresh, modern ways. It still looks very sunny and cheerful. (See: Slide with coral, yellow, and green chairs.)
I also see it as a smart, fluid evolution from Millennial Pink, which has been so popular over the last 2-3 years, which makes it a very commercial choice.
It looks great in an Outdoor Patio space as well as soft textiles like drapery. The Navy or Indigo blues pair very well with coral. As do Teals. Exterior uses also look lovely, bringing vibrancy and personality to the outside of the home.

3 | CURRENT EVENTS THAT EVOKE THE COLOR LIVING CORAL
Let's recap some of the colossal current events that took place in 2017 and 2018.
IN 2017:
President Trump was inaugurated

Women's March

Brexit

North Korea Escalation

Self-Driving Cars

Self-Learning A.I.

Las Vegas Shooting
IN 2018:
International Women's Day

March for Our Lives

Organized by survivors of the Parkland, Florida school shooting.

Civic Engagement

Popularity in voting and importance of midterm elections.

Lots of women were voted into Congress including the youngest woman ever to serve in Congress, the first Muslim women, and the first Native American women.

The World Cup

The Royal Wedding

Nelson Mandela 100

July 18 marked 100 yrs since Nelson Mandela was born.

Remembering: Aretha Franklin, Stephen Hawking, and Burt Reynolds.
IN POLITICS
"Lying at the center of our naturally vivid and chromatic ecosystem, PANTONE Living Coral is evocative of how coral reefs provide shelter to a diverse kaleidoscope of color." Do you think this is an echo of how the current u.s. administration has handled immigrants crossing the border?
Erica Ilene did not think so. The terminology "provide shelter" really stuck out to me and it could mean a variety of things. Pantone chooses their words very carefully and I do think the concept of providing + seeking shelter is very important in our current events.
IN THE ENVIRONMENT
is this color choice meant to call attention to coral reefs being endangered?
National Geographic says that our Coral Reefs could be gone in 30 years. A UN study found that unless global warming is reduced, coral reefs will die of heat stress.
Reef expert, Mark Eakin, calls this catastrophe, "heartbreaking" as it's already happening.
According to National Geographic, 25 reefs (3/4 of the world's reef systems) experienced severe bleaching events, the worst to date.
Eakin says, "The Great Barrier Reef damage we've seen is greater than anything we've seen in the past 20 years." And, "The last 3 years have been extremely depressing for me."
4 | HOW WILL SOCIAL MEDIA BE INFLUENCED BY CORAL IN 2019?
There's no doubt creates a liveliness that is very relevant and effective within social media realms.
Do you see Living Coral as being "Instagrammable?"
If yes, leave me a comment at the bottom of this blog post and let me know! I'd love to see your screenshots and examples, too.
The 1st use of the word coral was written in 1513 as a color name in English.
5 | HISTORY OF THE COLOR CORAL
Coral reefs were first harvested for jewelry by the ancient Egyptians, and worn in Rome to ward off evil. Renaissance paintings of baby Jesus often depict him holding a coral amulet (assumed to also ward off evil).
Before the 16th century, Chinese and Europeans would have labeled this color yellow-red. Europeans learned the Sanskrit word 'naranga' via trade in the late 15th century, which later became orange in English.
By the mid-18th century, iron-oxide pigments could be mass produced for painting red, orange, and yellow shades. In 1840, the more chemically stable color, cadmium yellow, was created, followed by cadmium red in 1920 - both flooded the market while making the full range of orange hues possible for the very first time.
Coral became a favorite among Impressionists and the rest is history. In the Victorian era, it was carved for cameo portraits.
Coral was prized in sleek Art Deco jewelry during the first half of the 20th century. Hippies of the 1960's and 1970's treasured it's raw form.
ARE YOU A CORAL PERSON?
6 | HOW YOUR PERSONALITY FEELS ABOUT THE COLOR CORAL
CORAL LOVERS
So how do you feel about the color Living Coral, or coral in general? (I am so-so on it.)
But I seem to do this every year where I'm a little resistant to Pantone's color choice and then as the year unfolds it starts to really grow on me.
Here are a few funny revelations about how your personality handles this lively color. Because Coral is a blend between Orange and Pink, we'll have to draw some conclusions from both of these colors.
A pink person is less ostentatious than a red person, but still has style and perspective. In softer tints, it is pure, demure, and sweet. If you love pink, you are generally talented, but not pushy or overly ambitious.
Lovers of orange work and play hard, are expansive, extroverted, and have original ideas. They are good-natured, adventurous, and enthusiastic with strong determination. They are pretty agreeable and happy.
Orange-lovers can be fickle. Their newest friend is often their best friend until the next shiny new person comes along.

Success in business can often come from this gregarious, charming person.
Coral-lovers will find themselves in somewhere in the middle of the scale - perhaps loving to be social on the weekends, but preferring to stay in during the week.
CORAL HATERS
If you hate pink, then it's innocence is quite annoying to you. You consider it weak. Hot Pink is too showy for you and you're just not a person with that much audacity who needs to be the center of attention. You prefer sophisticated and friendly colors staying safe in the realm of neutrals and muted blues.
If you hate orange, then nothing flamboyant appeals to you. You are not a fan of partying, hilarity, loud people, showing off, or public displays of affection. You may be a bit of a loner, although you prefer to have a few genuine friends and once you've made a friend, it's for life. You are very loyal and sincere.
Coral-haters will find themselves in somewhere in the middle of the scale - perhaps you have some boldness inside of you when necessary, but you prefer to keep it reserved for extremely important situations. Maybe you enjoy a nice party from time-to-time, but you would never host a large party yourself.

Source: Colors for Your Every Mood, by Leatrice Eiseman, 1998.
5 | HOW LIVING CORAL CAN AFFECT YOUR BUSINESS IN 2019
Before you get totally carried away on the Coral train you have to know your customers and your brand. Is coral relevant to your target audience and does it make sense with what you're ultimately selling? For example, I highly doubt Ford is going to come out with new coral sedans next year.
However, see if you can work it into your existing assortment or product offering. If you are selling gifts or accessories this is an amazing accent color! See if you can use it as a pop color on a small detail.
The exact shade of coral can be flexible. Perhaps, you want a dull version of coral which suits your customers better. This could work well for textiles and home decor products such as rugs and pillows.
Coral can also be a great shade for marketing and advertisements. It is easy to incorporate into your social media strategy.
And if you can't physically incorporate coral tones into your business, you can always develop into the overall meaning behind Living Coral by bringing a sense of environmental consciousness to your business messaging.
___________________
GET MY FREE 2019 TREND REPORT

Jumpstart your career in Textile Design by downloading my free Trend Guide for 2019.
CHECK OUT MORE FROM THE DESIGN TRIBE
⬇